If you want to see what's going on in the world, window cleaning Tulsa
by Clempire Janitorial is the way to make it happen. Professional window cleaning services can turn those dirty or streaky windows into a source of newfound clarity. Can you think of anything good that ever came from dirty windows?
Window cleaning is one of those thankless jobs that everyone ignores until the windows are so filthy something has to be done. Professional window cleaning companies have the equipment, products and expertise to revitalize any home or business in the Tulsa area.
Window Cleaning Tulsa
For Your Business: You'd be amazed by the selection of professional window cleaning services in the Tulsa area. Oklahoma weather can really do a job on glass windows and doors. If you own a Tulsa area business, clean windows definitely influence how prospective customers view your standing in the business community. Everything else might be perfect, but dirty windows and smudged glass doors take some of the luster off the products and services you offer to the community.
For Your Home: You finally did it. You finally built or bought your dream home. The view from your living room is spectacular. Well, it was spectacular until a dry dusty summer did a number on the windows. Fortunately, a professional window cleaning service can solve your problem just in time for that family gathering or birthday bash you've been planning. Ah, there's nothing like the sparkle of professionally cleaned windows.
Window Cleaning Services
A spray bottle filled with a vinegar solution and a roll of paper towels just won't get the job done anymore. Just consider a few of the professional services offered as window cleaning services in the greater Tulsa area by Clempire Janitorial:
Commercial and residential window cleaning services
No harmful chemicals. Only eco-friendly cleaning products, researched and proven for over 30 years in the industry
Flat-rate window cleaning prices
Free job estimates
Money back guarantee
Purified water to alleviate mineral buildup
Power washing
Gutter cleaning
Indoor and outdoor window cleaning
Full Service Window Washing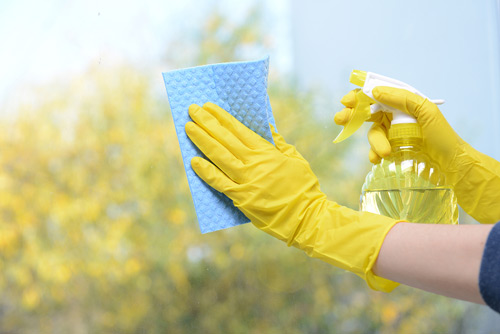 Like any good business, window cleaning Tulsa by Clempire Janitorial is all about providing superior service. Clean windows and satisfied customers mean more business for everyone.
Clempire Janitorial window cleaning services even offers affordable monthly, bi-monthly, quarterly, semi-annual, and annual cleaning packages.
A comprehensive business or residential maintenance program should always include professional window cleaning services. Once window cleaning is in the budget, you'll never have to worry about dirty windows again.
Our professional window cleaners can reach even the highest windows. You know, the exterior windows that you wouldn't try to clean if your life depended on it. Don't worry. Our professional window cleaners use water-fed poles and other special equipment to meet every window cleaning need.
If you're seeking a little clarity in your life, professional window cleaning is a good place to start.